How to choose a feeding bottle.
Parents need to take care of a lot to surround their baby with everything they need. For example, it is very important to decide which feeding bottle to choose. For a newborn, the most useful and nutritious food is breast milk. But it is not always and not always convenient for a mother to breastfeed her baby. In such situations, it is very convenient to use a breast pump and feeding bottles, which will allow you to feed your baby in public places. Bottles for newborns can be filled not only with expressed milk, but also with special mixtures if the mother needs to leave..
Types of feeding bottles.
There are many types of bottles. You can pick them up depending on the age of the child and what you plan to feed him. Better to buy several bottles at once. They differ in several ways:
Glass bottles are hygienic, quite durable and can withstand repeated sterilization, so they are well suited for the first weeks of a baby's life. Plastic bottles wear out faster but are also lighter. It will be more convenient for the child to hold them himself, and for you – to take them for a walk.
• Appearance and size .
Modern baby feeding bottles have a huge variety of shapes and colors. Straight containers are easier to wash, embossed and with a narrowing in the center, the child will be able to hold in his hands. Bright scale helps to mix in the right proportions, and wide neck makes bottle easy to fill and rinse.
By volume, bottles are usually divided into 2 types: for the smallest 110-200 ml and for older children about 260 ml. It is best if this type of tableware holds 50% more food than the child usually eats at one time..
• The shape and size of the nipple .
Latex nipples are cheaper, softer, very similar to human skin, while silicone nipples are more durable and stronger. It is better to choose material, in this case, taking into account the individual reaction of the baby..
Pediatrician approved classic teat for the first weeks of life. The anatomical shape will help a baby on mixed nutrition (both breastfeeding and bottle feeding) to easily move from nipple to bottle and vice versa. And to form a correct bite, doctors recommend using orthodontic nipples with a beveled edge..
You should also pay attention to the number of holes in the nipple – more for thick food and less for liquid. It is important to ensure that the child does not get tired of sucking and does not choke.
• Anti-colic system .
Since colic is a very unpleasant thing, it is worth choosing bottles with a special pressure equalization system; it prevents the baby from swallowing air as the level of the mixture decreases. The reservoir anti-colic system does the best for this..
With all these characteristics in mind, it will be easy to decide which bottles to choose for your newborn. It is worth buying several types at once, they are useful for different foods. In any case, it is imperative to check the quality and safety of materials, the tightness of the bottle (how tightly the cap fits) and the convenience of its use for the baby.
Popular bottle brands (pros and cons)
When deciding which feeding bottles to choose, it is better to give preference to well-known brands. They carefully monitor the quality of their products and listen to feedback from ordinary buyers..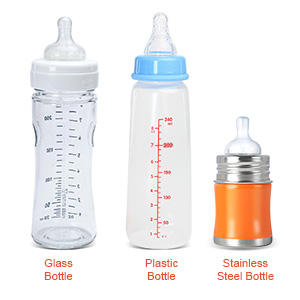 You can be guaranteed to trust the products of such companies as:
Rankings are regularly compiled based on numerous studies and evaluations from buyers around the world, including the best bottles for feeding newborns. Consider a few of the most popular and frequently encountered models..
Taking into account what exactly your baby needs, you can safely choose a feeding bottle from the list we have compiled.
Care and storage of bottles.
When breastfeeding, the baby receives healthy and safe milk. Therefore, when transferring it to artificial or mixed food, it is very important to strictly observe hygiene. Doctors recommend sterilizing baby bottles, nipples and other accessories until the baby is 3-5 months old, after which you can simply rinse them well with hot water.
There are several ways to sterilize bottles:
1. Boil in a saucepan or hold over steam for 3-10 minutes.
2. Use a dishwasher.
3. Heat the dishes soaked in a saucepan in the microwave (2 minutes at 1100-1850 W).
4. Use special sterilizers that steam bottles for 10-12 minutes.
5. Prepare a solution for washing from special tablets and powders.
Bottles should be washed immediately after feeding, not allowing food debris to dry out, especially if it is sour milk. Crockery with straight sides is easier to clean than curved crockery. Therefore, it is important to consider which feeding bottles are best filled with a thick mixture and which ones with liquid. After sterilization, the bottle remains sterile for several hours (depending on the method).
How to bottle feed correctly.
Regardless of what kind of baby food you put in the bottle, the first thing to do is check the temperature. Expressed milk from the refrigerator, water or juice can be heated in the microwave. It is better to pour the soluble mixture into already warm water according to clear proportions and give it in the first 30 minutes after preparation. It is better to feed your baby in your arms, as during breastfeeding, so that he can feel a close connection with his mother. The baby's head must be raised, but not tilted back, otherwise problems with swallowing may occur.
Which newborn feeding bottles you buy will have some influence on the feeding process. Be sure to hold the bottle at an angle of 30-45 ° and make sure that there is always the mixture in the nipple. But the baby will still swallow a little air, so take a break from time to time. During this time, and also for a few minutes after feeding, hold the baby upright, resting the head on your shoulder. After regurgitation, you can continue, but do not force the eaten baby to finish eating.
Eating food for a child (like any action in infancy) is a very emotional process. He is sensitive to stress, anxiety or anxiety, so it is important for mom to relax as much as possible and put love and care in her actions. For example, you can sing, tell stories, or talk to your baby. And the right feeding bottle will be a tool to help establish close contact and improve the digestion process..
There is nothing more natural than the desire of parents to protect their child from the negative influences of the outside world. Therefore, it is important to know, among other things, which baby feeding bottles can best cope with this difficult task. By making the right choice in favor of a quality bottle, you provide your baby with comfort and complete safety. In the Mothercare online store, you can choose proven products that are right for you and your baby..